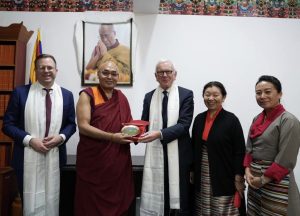 Dharamshala, 20th November 2023: Dr. Hans-Gert Pottering, former President of the European Parliament, visited the Tibetan Parliament-in-Exile earlier today.
He had a meeting with Speaker Khenpo Sonam Tenphel, Deputy Speaker Dolma Tsering Teykhang, and members of the Standing Committee and discussed various issues of shared interest. The former European parliament president was accompanied by Dr. Adrain Haack, Director of Konrad Adenauer Foundation of New Delhi, and Representative Rigzin Choedon, Office of Tibet Brussel.
Welcoming the guests, the Speaker extended his gratitude to the former European Parliament President for inviting His Holiness the Dalai Lama to the European Parliament in 2008 during his presidency.
Informing him of the success of exiled Tibetans under the leadership of His Holiness in preserving and promoting Tibet's distinct language, culture, and religion, he appealed for support from European countries in the CTA's endeavor to preserve the unique Tibetan identity. He further highlighted the current status of Tibet with no transparency in China's policies which he said is evident in their recently published white paper on Tibet.
The Deputy Speaker mentioned that the former European Parliament president's visit sends a big signal to the world that Tibet is not alone in its non-violent struggle and highlighted the need for more coverage of non-violent approaches and struggles including the Tibetan peaceful movement.
Speaking on the dire situation of Tibetans inside of Tibet, the Deputy Speaker further spoke about the change of demography in Tibet with Tibetans becoming a minority in their own country and facing a threat to preserving its distinct identity. Highlighting especially the coercing of Tibetan children into colonial boarding schools, the Deputy Speaker urged the former president to be vocal on these issues.
Further speaking on the unbridled extraction of natural minerals in Tibet by China and about the damage to the Tibetan plateau and its consequences, the Deputy Speaker stressed initiating UN-led scientific research on the significance of the Tibetan plateau to the world.
Dr. Hans-Gert Pottering greeting the Speakers led members of the Standing Committee spoke about his great admiration for His Holiness the Dalai Lama and about the positive influence His Holiness has on him. He also talked about inviting His Holiness to the European Parliament in 2008 during his presidency and how he at that time had urged politicians to consider boycotting the Beijing Olympic Games to protest against China's crackdown on demonstrations in Tibet. He assured doing his best to spread awareness of the cultural genocide happening in Tibet.
Before the meeting, Dr. Hans-Gert Pottering was taken on a tour of the parliament hall and briefed on the composition, functioning, and evolution of the Tibetan Parliament-in-Exile.