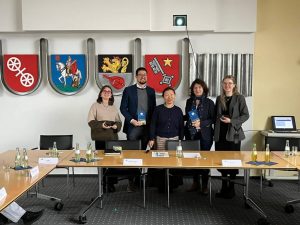 Mainz, Germany: Deputy Speaker Dolma Tsering Teykhang of the Tibetan Parliament-in-Exile as a part of the delegation of Members of South Asian Parliamentarians has successfully concluded her study tour to Germany from 5th to 11th November, 2023.
Other members of the delegation include Shri Sujeet Kumar, a member of Rajya Sabha, India; Dr. P. Sudharshini Fernandopulle, a member of Parliament, Sri Lanka; Mrs. Nagina Yadav, a member of the House of Representative, Nepal; Mr. Ali Nizar, Mayor of Addu City, Maldives Democratic Party; Mrs. Tshering Tsomo, member of Parliament, Bhutan; and Shri Brijender Singh, member of Parliament, Lok Sabha, India.
After their engagements in Berlin from 6th to 7th Nov 2023, the Deputy Speaker and other delegates left Berlin for Mainz on the next day. There they visited the Haus Burgund and engaged on 'Discussing European Integration and Regional Partnerships' with Laurent Vieille, Head of the Facility, Haus Burgund.
On 9th Nov, they visited the ZDF (Zweites Deutsches Fernsehen) which is a German public-service television broadcaster and the second German television institute under public law based in Mainz, Rhineland-Palatinate. There, they had meetings with Jörg Berendsmeier, Head of the General Foreign Relations Department in the International Affairs Division of ZDF , and Heiko von Debschitz, International Affairs Department, ZDF about German media politics.
Thereafter, they visited the Landtag Rhineland Palatinate (State Parliament) and were briefed on 'The Role of the State Parliaments in the Federal System' by Philipp Fernis, MP, FDP Parliamentary Group Chairman. They also toured through the Landtag Rhineland Palatinate and visited the Ministry of Economics, Transport, Agriculture and Viticulture Rhineland-Palatinate. Followed by a productive interactive session with Kathrin Börnemeier, Consultant for the regions East and South Asia as well as Central Asia and the Near and Middle East, Visiting the Ministry of Economics, Transport, Agriculture and Viticulture Rhineland-Palatinate.
On 10th Nov, Elvin Yilmaz, Head of International Department, Rheinhessen Chamber of Commerce and Industry, introduced the delegates to the work of the Rheinhessen Chamber of Commerce and Industry, followed by a working lunch with Emanuel Letz, Chief Mayor of Bad Kreuznach; Dirk Alsentzer, Authorized signatory and Head of Sales at Stadtwerke Bad Kreuznach; and Michael Fluhr, Head of Office for Economic Development and Real Estate. They discussed competences and responsibilities of the municipal level.
After all the engagements there were Q & A sessions during which Deputy Speaker Dolma Tsering Teykhang raised the issues relating to Tibet and Tibetans to draw the attention of the esteemed German officials for their consideration and gave appeal letters on behalf of TPIE.
On 11th November, the Deputy Speaker visited Tibet House at Frankfurt with Dr. Carsten and from there left for Delhi via the Frankfurt Airport.
This visiting program to Berlin & Mainz is organized by the Friedrich Naumann Foundation for Freedom (FNF).