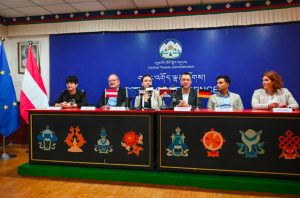 Dharamshala: A seven-member delegation of the European Parliament from Austria and Germany who is on a two-day visit to Dharmashala sat for a press meeting with the Tibetan news media today to demonstrate their solidarity and support for the Tibetan people and their movement.
The delegation's visit to Dharamshala this time is part of an educational tour of South Asia facilitated by the Fredrich Naumann Foundation (FNF) in partnership with the Central Tibetan Administration. Their visit to the seat of the Tibetan administration in the diaspora and the successive meetings held between them and the leadership of the CTA including the Tibetan lawmakers signify a progressive step by the European Parliament in cementing a stronger relationship with the CTA.
Delegates Yannick Shetty (Member of the Australian Parliament); Dolores Bakos (Member of the Legislative Assembly, Vienna, Austria); Dirk Bergner (Deputy Speaker of the State Parliament, Thuringia, Germany); Regina Bergner (Head of Department, Jena Municipal Corporation, Germany); Torsten Herbst (Parliamentary leader of the FDP Bundestag Group, Germany); Sandra Weeser (Member of German Parliament); Christine Aschenberg-Dugnus (Member of German Parliament) unitedly spoke about how inspired they were to witness first-hand the system of democracy adopted and implemented by the Tibetan administration in exile as they reflected the sentiments of hope and faith in Tibet's fight for freedom and justice.
When questioned about the possibility of the European Parliament following the steps of the US in passing its version of the resolution on the Sino-Tibet Conflict, the parliamentary delegation of both Austria and Germany agreed they were not as progressive as the US in passing such legislature but they assured to raise this matter for discussion to their respective parliament.
Apart from the CTA, the delegation is set to visit various Tibetan organisations and civil society groups operating in the fields of education, health, culture, and religion to seek a deeper understanding of the diasporic Tibetan community and its struggle for the larger Tibetan cause.
Prior to the delegation's visit to Dharamshala, they met with Sikyong Penpa Tsering in New Delhi on 30 September and discussed varying matters including the challenges faced by the Tibetans in exile. Sikyong apprised them of the governance framework of the CTA and meanwhile extended gratitude to the European delegation for their support.
In Dharamshala, the European delegation met with Cabinet Ministers of the CTA, the Speaker and the Deputy Speaker of the Tibetan Parliament, and senior officials of the CTA.