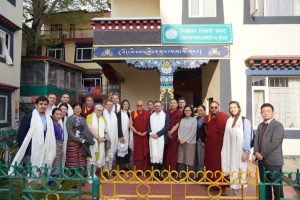 Dharamshala: A delegation of the Members of the European Parliament comprising MEP Mikulás Peksa, MEP Salima Yenbou, MEP Hannes Heide, and MEP Aura Maldeikiene accompanied by Representative Ringzin C. Genkhang, and staff visited the Tibetan Parliament-in-Exile and met with Speaker Khenpo Sonam Tenphel led members of the Standing Committee and the Budget Estimate Committee at the Standing Committee's Hall at 4 pm today.
During their meeting, the Speaker urged the MEPs primarily on bolstering support of the European Union to Tibet's issue and on the need of adopting resolutions on Tibet-related matters, similar to the US's 'Reciprocal Access to Tibet Act', in the European Parliament.
As the European Union holds an extremely significant position in contributing to the endeavors of Tibetans towards the preservation of Tibetan heritage and resolving Tibet's issue, the Speaker appealed to the MEPs on the necessity of appointing a special coordinator on Tibetan issue for the European Union and on the need of categorizing a separate budget head for the Tibetans in exile by the European Parliament.
The MEPs, who have come to attend the official commemoration of the 64th Tibetan National Uprising Day in Dharamshala, expressed their solidarity and reaffirmed their continued support to the Tibetan struggle.
Thereafter, MEPs and Speaker led Tibetan Parliamentarians had discussions on varied issues of common interest and interacted briefly on the challenges of holding elections in exile, the process of deliberation in a party-less parliament system, how the Tibetan administration handled Covid upsurge during the pandemic, how the CTA is addressing the challenges of preserving Tibetan heritage – especially amongst Tibetans living in the west, on the situations inside of Tibet including human rights violations, Sanitization of Tibetan culture, and many others.